Beautiful spaces aren't created by chance. They are born out of bold decisions and bursts of individuality, but are also influenced by architectural elements, not only of the space itself, but also in a general, wider context. For example, in today's rapid urbanization of our spaces where greenery and nature are being overturned by concrete blocks, and outdoor areas becoming more scarce, people are seeking ways of integrating and imitating nature within their indoor confines.
We seek refuge at home, we long to go back to basics and we have an innate longing to be more connected with nature. Putting nature at the centre of the house instantly uplifts the mood and creates a comforting feeling. Therefore, even if having a green oasis at home is not possible, the least we can do is to try to include elements which imitate nature or draw inspiration from a more tranquil past. The idea of creating a home as a haven of tranquility and a place where to gather one's senses, has never been more relevant.
Below, we shed some light on how we can inject elements of nature in various spots around our everyday spaces, to create a tranquil vibe.
Flooring
The floor of any property plays a very big role in the overall look, and what better way to start with than with natural materials on the floor? A durable, wooden floor made from sustainable materials automatically elevates the aesthetical value of any property, and are reminiscent of Nordic country homes. Available in an array of finishes, one can easily opt for a country look with defined knots and aged finishes on the planks, or lighter, smoother tones for a more urban feel. The latter give off a pure, clean look and look great in children's bedrooms in particular.
Patterned floors such as herringbone style have also made a big comeback and look great if one is after an elegant, but updated modern look. Quality products are nowadays also finished in special lacquers which preserve the naturalness of the wood, but also make the floor extremely resistant to dirt, liquids and dust.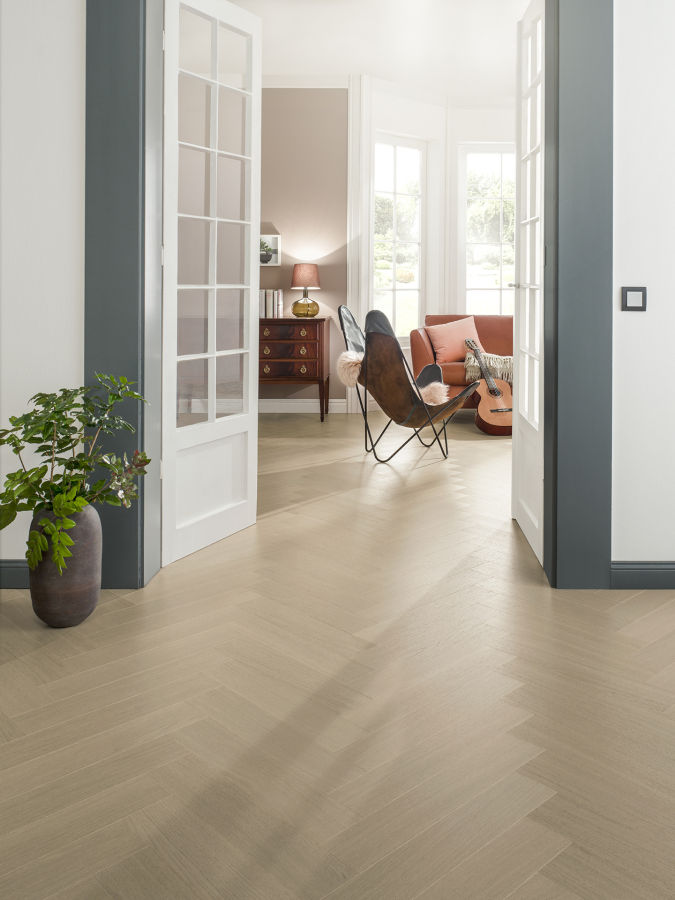 The kitchen hub
Life at home undoubtedly centres around the kitchen. Food has long been a means of getting people together, but with today's dreamy Instagram feeds of clean foods and organic creations, many are inspired to prepare wholesome food at home and consequently spend a larger portion of their day around the kitchen. It naturally follows that this space remains the number one spot where people gather to unwind and connect over their food, therefore what better way to combine nature and letting it take centre stage around your kitchen?
The new kitchen model by Aster Cucine seeks to do just that. It embodies the country kitchen feel that evokes so many memories of leisurely country vacations, and yet somewhere in between one finds a contemporary mood that brings you back to modern day functionality and absolute comforts. The eclectic charm of natural materials such as oak plays with other textural elements such as lacquered fronts in pale country greens, duck egg blues or the curve-detail cutouts. Then the magic happens, when all this is juxtaposed with the more contemporary industrial elements of black steel, clear glass and blackboard fronts. The trend of displaying treasured artefacts is embodied through open shelving and exposed storage in the islands.
The living area
One of the hottest colours of the moment is forest green. Even if you never considered yourself a huge fan of green for your interiors, marrying this colour with touches of brass, smoked glass and grey and intricate florals in the accessories, gives it an updated contemporary look and injects a natural vibe.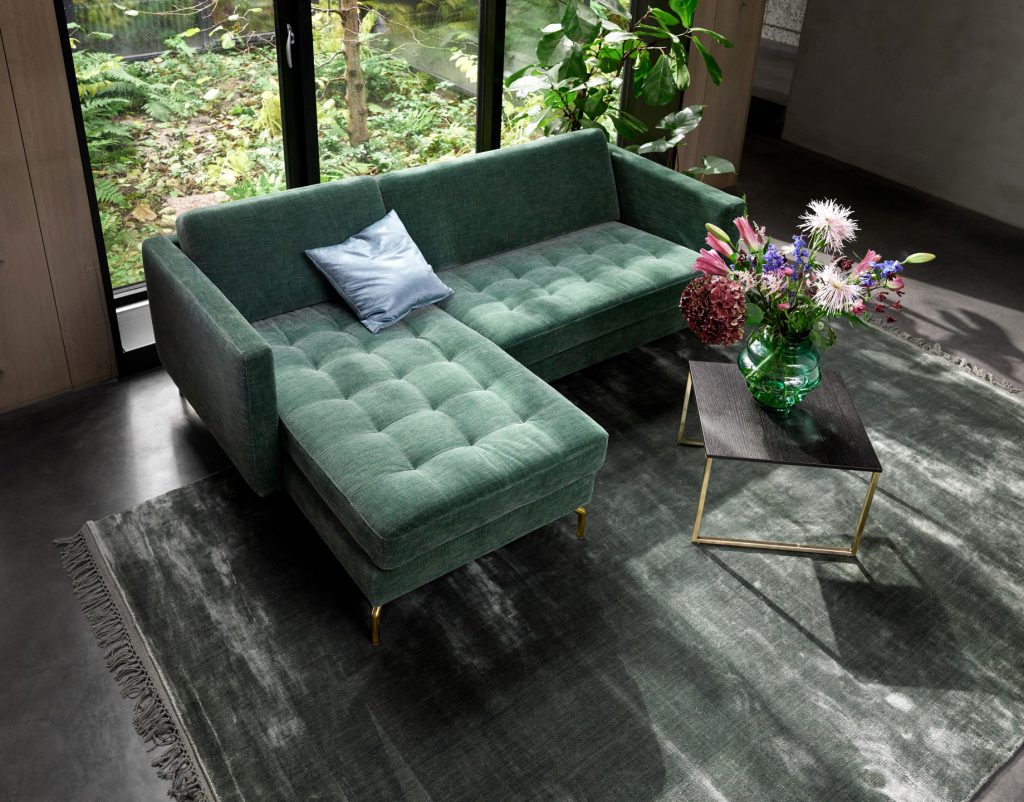 Another colour which effortlessly reminds us of cool summers is coastal blue. Blue is calming and accented with purple, plum and black, it gives off a more luxurious look.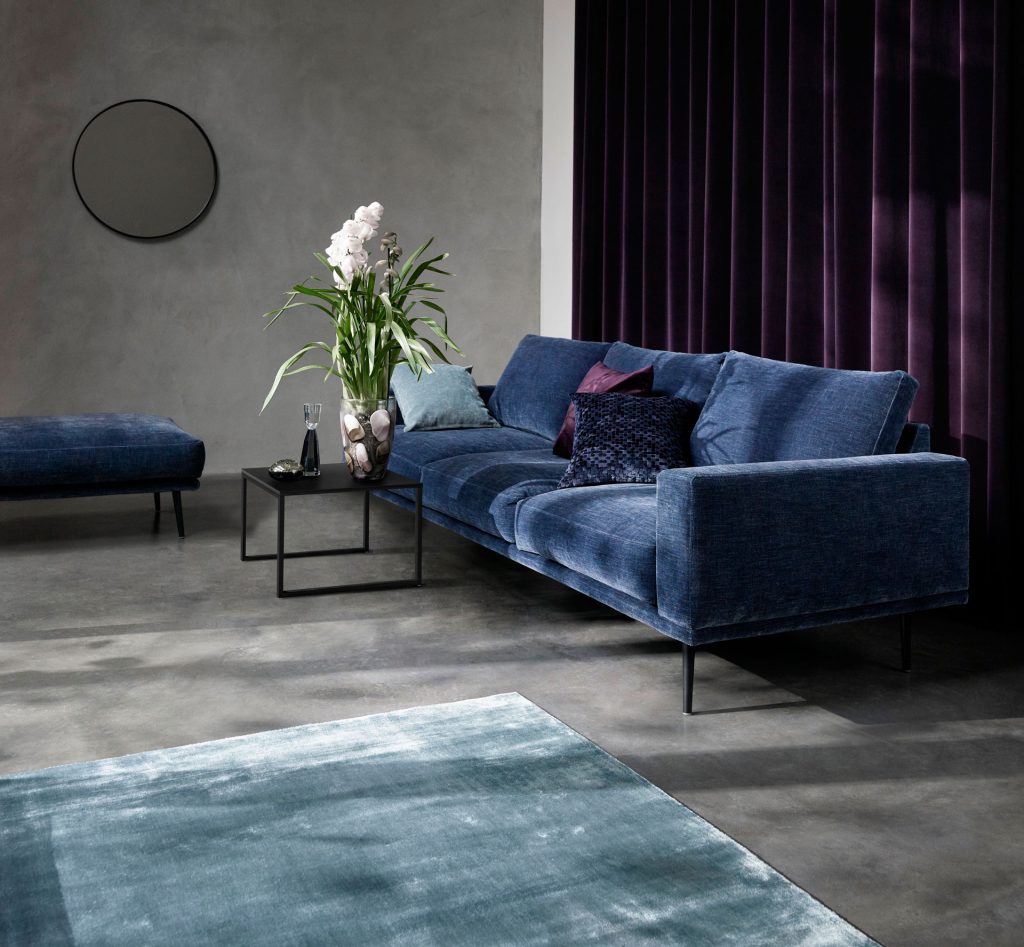 Adding quirky gallery pieces on the wall also brightens up the space and breaks through any formality (whilst also being a fun conversation starter if having guests over!). One does not even need to have much floor space available and still have foliage around – modern wall decorations also come in the form of miniature hanging glass pots.
As with anything else, the key for a harmonious natural living environment is to keep it nice and simple. Breathe in and enjoy your own little oasis of tranquility!