Kitchens have become a central hub in the home and many homes feature open plan layouts – it goes without saying that kitchen living is nowadays central to all home design. Moreover, trends are continuously evolving and one can notice a recent shift in kitchen styles. In this blog, we highlight what makes a transitional kitchen – a fusion of the best of old-world craftsmanship and new-world functionality – and the elements to keep in mind when adopting this style.
The transitional style is quickly becoming one of the most popular styles. As the name implies, the style embodies a good balance between the modern and traditional. It is a fusion of the best of old world craftsmanship and new world functionality, influenced by materials of the past and modernized for contemporary life. The result of this careful and deliberate mix is a timelessly elegant and functionally modern kitchen; a room that is at once warmly familiar and profoundly fresh.
Transitional styles
– Some transitional styles lean a bit more towards the rustic, farmhouse style – however, what makes these kitchens stand out from the typically traditional styles is the unexpected hint of magic that happens when introducing more modern, even industrial elements, such as mixed metals in predominant spots of the kitchen, such as blackboard fronts or glass cabinetry. Another particularly strong element which makes a transitional kitchen different from a more traditional one, is having a mix of door profiles in the same kitchen. An example would be combining the more traditional shaker-style, thicker door profile, with thinner, more modern door profiles, such as in the examples below.
– Transitional styles can also be more subtle, and can perhaps be described as more elegant, and verging on the contemporary style. This kind of style works beautifully in homes characterized by simple timeless design, but with unexpected small detailing throughout.
Elements of a transitional kitchen
– Coloured cabinetry – some might argue that a white kitchen is timeless and looks cleaner and brighter, however having coloured cabinetry can also make the kitchen space stand out. Greys and blues (particularly pastel shades) are popular choices and work well with marble countertops, bronze or brass taps and other hardware, as well as stainless steel appliances. Grey also looks updated and current when mixed with oak and adds an element of calm sophistication.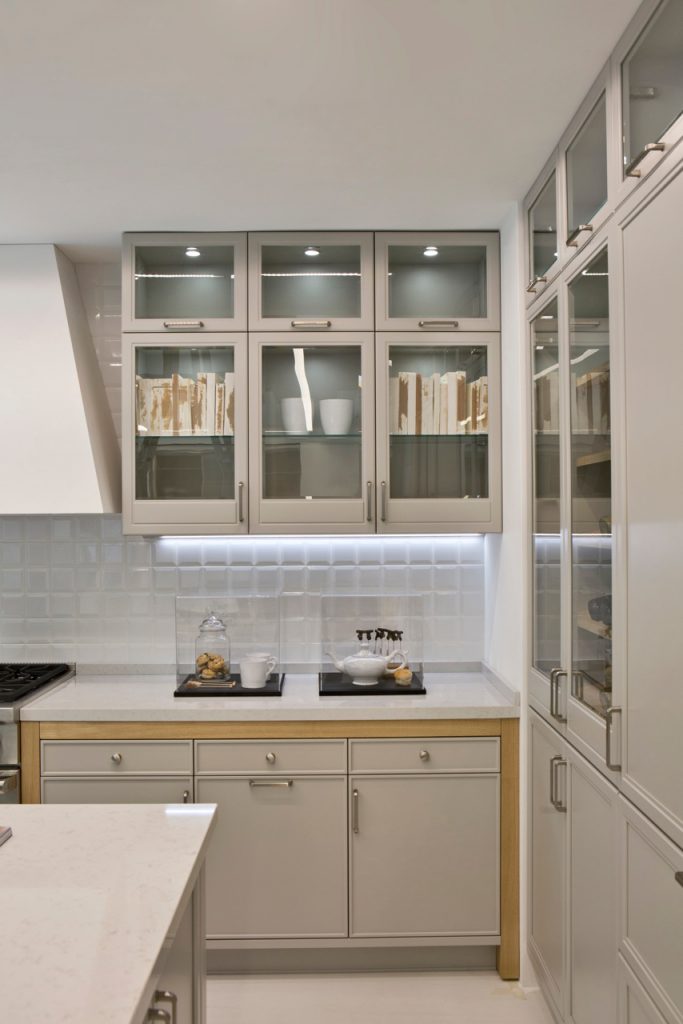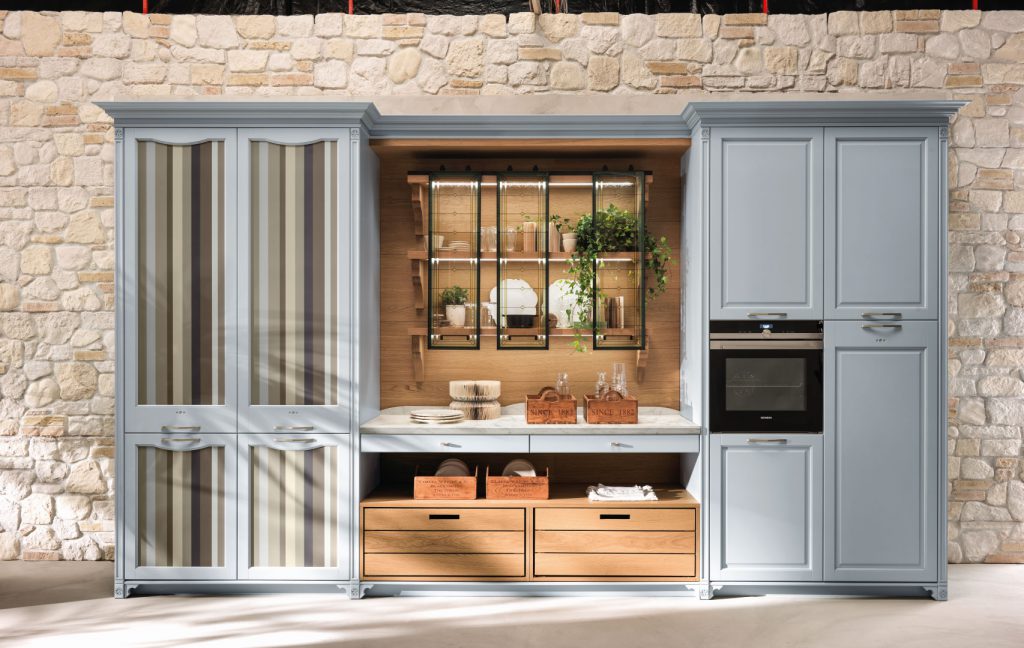 – Shaker style doors (characterized by a flat centre panel and raised square frame), combined with slimmer door profiles, work beautifully in transitional kitchens. The below kitchen is a stunning example of a mixture of such door styles on the front and side of the island. The glass cabinetry and the black metal suspended rack give a modern, almost industrial twist.
– Open or glass shelving – this type of shelving makes a kitchen look bigger and brighter, and is great if you have items that you wish to display openly. Open cabinetry also works beautifully to display fresh herbs or plants and helps to bring the outside in. However, it's always a good idea to plan open and glass shelves in combination with enough closed cabinetry to hide away appliances and other knick-knacks or utensils which can clutter a kitchen.
– A trend towards wellness – a lot of time is spent in the kitchen, therefore achieving a sense of wellness in this area, makes perfect sense. If your kitchen allows it, it is always a good idea to have large windows or doors to allow plenty of natural light in. Fitting your kitchen with natural materials such as wooden flooring, wooden accents, plants and herbs makes the space homely and healthy.
When creating your kitchen the most important thing to keep in mind is to make it personal and to fit it with all the things that make you happy. The transitional style kitchen aims to tick all these boxes at a time when we take comfort in the simplicity and traditions of the past, but also enjoy modern day technologies. It is the perfect balance between playfulness and formality, old world charm and modern day functionality.
For assistance in creating your own transitional kitchen, visit Aster Cucine at Brands International Ltd, San Gwann.