The month of July brings with it many things – not least, the stifling heat that we've come to associate so strongly with Maltese summers. While there is certainly a lot to appreciate about our beautiful Mediterranean weather, such high temperatures can be difficult to withstand without sufficient protection. Having provided quality outdoor furniture in Malta for a good number of years, our team at Brands International shares a few reasons why our umbrellas are worth investing in.
Outstanding Design and Quality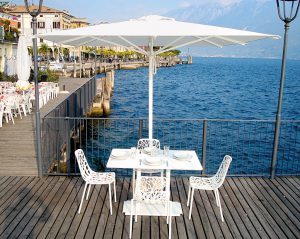 Our umbrellas extend beyond purely functional purposes. Their elegant and refined design combines beautiful artisan traditions with the latest technologies; they dress up any outdoor space and provide some welcome relief from the hot sun.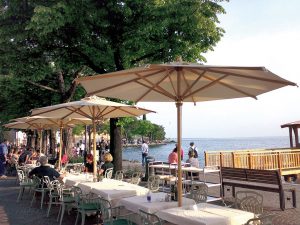 With a variety of sizes, colours and shapes, these umbrellas have been constructed to cater to a broad range of requirements. The fabric is weatherproof and hydrophobic, meaning that both water and oil bead on the surface and slide off easily. Moreover, it has been treated in a way to ensure that it inhibits the formation of mould and is resistant to fading. The overall quality of the materials, including the fabrics, the poles and the ribs ensure that the umbrellas provide superior protection and are sturdy enough to withstand strong winds.
Umbrella Poles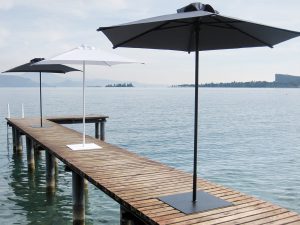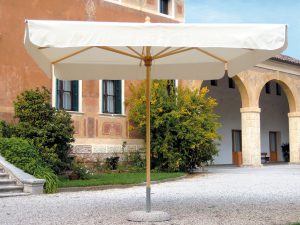 Some of our umbrellas come fitted with central poles of either aluminium or wood. Aluminium poles are strongly resistant to corrosion, and are both stronger and lighter when compared to steel or iron. Wooden poles are classy and sophisticated in appearance, and can stand up to high temperatures and heavy rain as they do not rust. To ensure further stability, these poles may also be attached to the ground.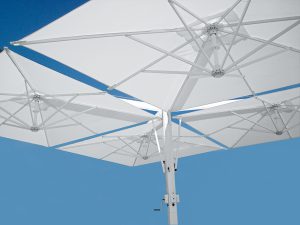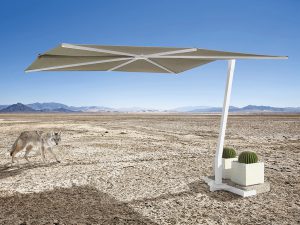 Other umbrellas come with lateral arms or multi-arms. These are especially useful for larger areas, and in commercial venues.
Features and technology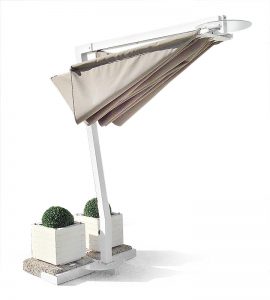 Despite their main purpose, the modern models of today have been updated with technologies which enable them to fulfil a variety of functions.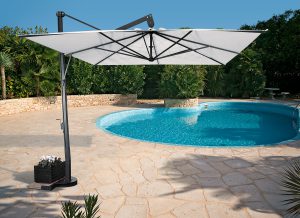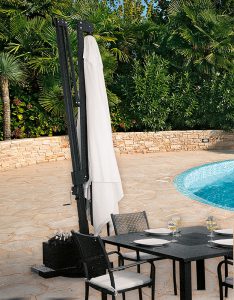 Our selection of umbrellas with lateral arms not only provide maximum shade when open, but also maximise outdoor space when closed. Sit back and enjoy your chosen shade setting thanks to a 360 degree rotating system, without having to worry about sun damaging the galvanised, varnished metal parts of the mechanisms.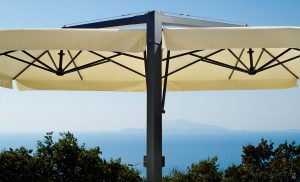 Our multiple arm models come in sizes of 6×6, 7×7 and 8x8m, the larger two being fitted with a bigger base as well as a telescopic lifting system. The latter allows the entire frame of the umbrella to lower when open and raise when closed. Finally, extra weather protection is provided by interchangeable, reinforced and anti-wind ribs between the vertical pole and the frame.
Having strong and durable outdoor furniture in Malta is a must, especially given the strong winds which occasionally hit our islands, which is why Brands International only support the very best names in the industry. Our range of heavy duty umbrellas provide perfect shading solutions designed for either residential or contractual use. We strive to satisfy every kind of preference and style by combining tasteful aesthetics with functionality and premium quality materials. For one of the best furniture stores Malta has to offer, look no further than Brands International. Contact us today for more information about our products and services.
Follow us on Facebook for more updates!