The bedroom is the place where you wind down after a long day. Whether sleeping, lounging or watching series on our laptops, our bedrooms have become multi-purpose spaces and an extension of our living rooms. Our team at Brands International brings you a few ways on how to transform a dreary bedroom into a calm oasis.
Neutral Palette
A neutral colour scheme, such as whites and greys, creates a warm and welcoming atmosphere and will enhance the sense of calm. There's nothing nicer than a simple, clean look in a bedroom, and the Scandinavian style has this down to a T. Such palettes bring out textural elements, which are key to creating a warm and layered space. In fact, a neutral backdrop allows bolder, brighter elements to stand out that may otherwise look tasteless.
The right soft furnishings
Many homeowners stay away from dark walls in bedrooms, yet when the décor is done right, the result will be a cosy, but luxurious feel. Keep the upholstery and furnishings in light colours to keep the room well lit and airy, and set it off with a wooden floor.
Bedroom Soft Lighting
The bedroom needs to be an inviting space that exudes a sense of tranquillity, and the right lighting can truly make all the difference. Create a subtle, gentle glow that will prepare you for deeper relaxation with bedside lamps, sconces, or have light fixtures on a dimmer to adjust the ambience as needed.
The right bed!
Being the focal point of any bedroom, it's important to choose the right bed for the size of your room. While it may be tempting to go for a larger bed, consider the remaining floor area to ensure the bed doesn't engulf all the room's space. Choose the right headboard, upholstered in plenty of fabric or leather options, tufted or plain, slim or cushioned, straight edges or curved, or go for a bed with no headboard at all.
A cosy seating area in your bedroom
Providing there's enough room around your bed so you aren't bumping against everything when getting around, consider adding a plump armchair to your scheme – one with an organic design and in a coordinated upholstery to keep the look soft and inviting. This will lend the space a hotel room feel and create a sectioned relaxation space for reading or lounging.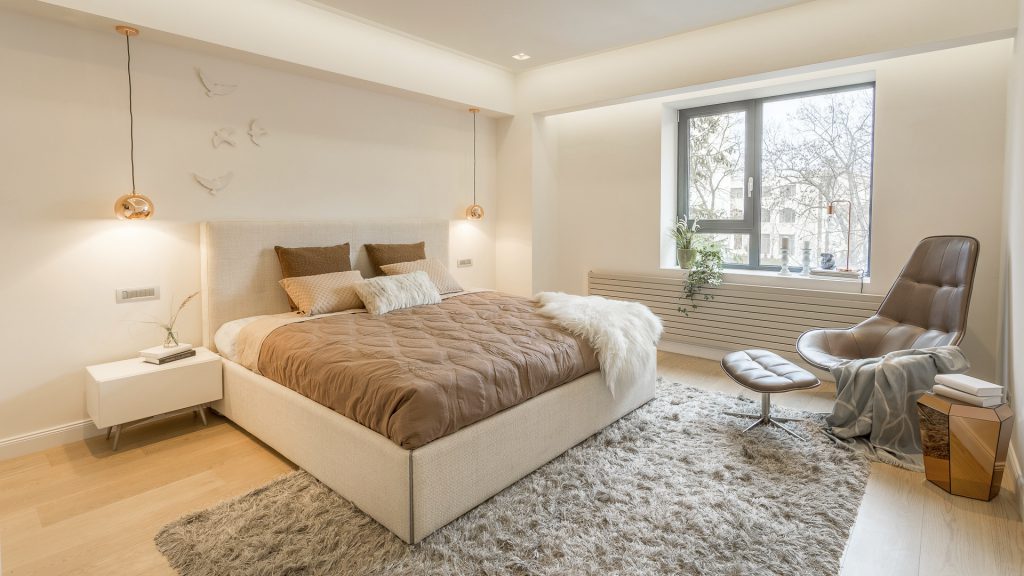 De-clutter with ample storage
Tripping over clothes and seeing clutter from the corner of your eyes while trying to relax may increase anxiety levels and make you feel unsettled. Get rid of unnecessary distractions around you and restore a sense of order in your space by decluttering. Storage beds are a great way to do this, especially for small living spaces. Whichever storage pieces you opt for, ensure they provide enough space to keep the area as clutter free as possible.
Keeping your bedroom clear of such distractions will help you clear your mind and ease you into sleep. If you must have some workspace in the bedroom, ensure to keep the area as clutter free as possible by having a slim desk, and that incorporates clever storage without looking too formal and office-like. Less is definitely more, both in terms of furniture and clutter, so get rid of all that visual noise and rock the minimalistic look!
A good night's sleep makes the difference between a great day and a cranky one where everyone is walking around you on eggshells! So if you're looking to transform your bedroom into a serene sanctuary, with pieces that are modern, comfortable and stylish, come over to our showroom and get first-hand inspiration. Best of all, our beds, headboards and mattresses are on 15% discount during the BoConcept Design sale, running from the 16th to 27th August!
Follow us on Facebook for updates!